First, Check out Simon Face During The performance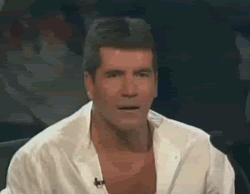 Yesterday Fantasia performed on the Idol Results show, She performed "Bore Me" from her last album, Bore me is like one of the best songs on her last album, I wished she released it.
The performance was on fire. If she released that as a video, i would go out and buy win a heartbead.Peoplae are aying the performance is a mess, but I dont think so
I dont understand why Simons face is like that, she did a good job, He's a mess anyway, not like I value his opinion.
And Suprise Suprise
Syesha
Went home.