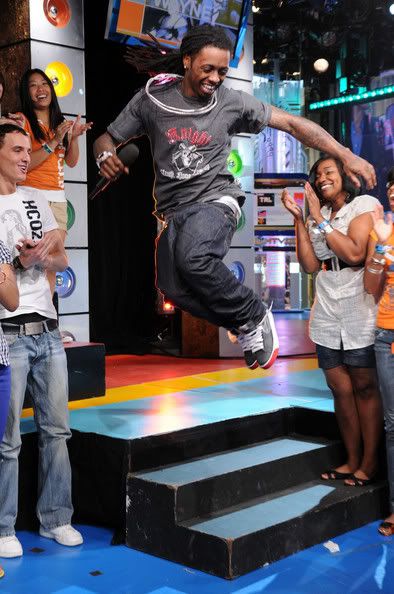 Justin Timberlake attended the premiere Of Paramount's "The Love Guru" held at Grauman's Chinese Theatre on June 11, 2008 in Hollywood, California.
In the film, the 27-year-old golf fanatic plays professional hockey player Jacques Grande. Yes, the one who rocks a speedo and wears a pornstache.
Meagan Good and Thomas Jones (of the NY Jets) also hit up the vent, Megan is hottt!!
Lil Wayne visited MTV's "TRL" on June 10 at the MTV Studios in New York City.
So did Akon, He also performed on the show
Gym Class heros singer Travis McCoy and Tyga were there too.
On wednesday, Solange Knowles hit up TRL at the MTV Times Square Studios in New York City. Looking great. The 21 year old has officially premiered her new video 'I Decided' on TRL.
She was also spotted leaving the TRL studios, with a cast on her foot and interesting eyebrows, I know nothing about make-up, but that dont look right.
Last night, Eugene Remm and Mark Birnbaum celebrated their Birthday Party at club Tenjune in New York City.
Michelle Williams was there, and performed
John Legend Tyson Beckford and Mark Birnbaum also hit up the event
On Tuesday, Akon Performed at Spotlight Live in Times Square in New York City.
Our favourite mess Lil Kim and Neyo made an apperance
Busta and Teyanna Taylor were there.
Lauree Ann (what ever happened to her song) and Young berg were there too.
Michelle Williams was there too(Pictured with Nina Sky and Ray Lavender)
Mel B and husband Stephen Belafonte were spotted outside their hotel in Monaco..Then later spotted in pink the Cartier store with Access Hollywood. Sexy as hell.
Zoe Kravitz was spotted leaving the Rose Bar at the Grammercy Hotel in NYC last night. She looks so much better now.
Eva Marcelle and boyfriend Lance Gross were spotted attending the Academy of Television, Arts and Sciences reception for the 2008 Daytime Emmy Nominees at the Savannah Restaurant in Burbank, California last Monday night. Looking good eva
In other Eva news
She makes her debut on the number one daytime soap "The Young & the Restless" starting on Wednesday, June 25, 2008. So look out for that.