Yesterday In Los Angeles, Will Smith, Charlize Theron and Jason Bateman premiered their new movie "Hancock". Several guest showed up such as Wills' Family and wife Jada Pinkett-Smith, Actress Lisa Raye, amongst others. To find out more
click here.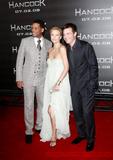 Red Carpet Photo's Courtesy of Contact Music.
Pardon if the post is a bit thrown together, I don't usually cover the red carpet arrivals!