So the pre-show has just started with a SLAMMING performance by Atlanta rapper Shawty-Lo with his hit song "Dey Know"
Rocsi looks a damn fool and Terrance is rather sharp today, although his pants are a little tight. As the red carpet photos and designer names become available I'll post and let you guys decide who worked it or looked a damn mess, just like Rocsi.
The show is
NOW
Over....
LIL' WAYNE WON VIEWERS CHOICE!
THE RED CARPET PICS WILL NOW BE IN A SEPARATE THREAD!
*
CONTINUE READING FOR LIVE FEEDBACK... CHECK OUT SOME OF THE PERFORMANCES AFTER THE JUMP...

Winners of Pre-Awards ( 106 & Park )

Shut Up & Dance Award (Best Dance Video) - Soulja Boy - Crank Dat
Lol (Laugh Out Loud) Funny Video Award - Hot Stylz feat. Yung Joc - Lookin' Boy
Drama Kings & Queens Award - Alicia Keys - Teenage Love Affair
Life of Da Party - Flo-Rida feat. T-Pain - Low

Performers ;

Shawty-Lo - Dey Know
Raheem DeVaughn - Customer
Hot Stylz feat. Yung Joc - Lookin' Boy
Sean Kingston feat. The Dey - Nothin' In This World
Big Boi of Outkast - Some Random Song (Sorry Didn't Catch It)
V.I.C feat. Soulja Boy, BUN B, DJ UNK, Polo Da Don & Jermaine Dupri - Get Silly (Remix)


Winners of BET-Awards (Speeches Coming If Available)

Jennifer Hudson and Terrance Howard did a little skit while she sung and played his acoustic and they presented the Best Male R&B Artist Award to Chris Brown he shouted out his manager, mom of course god and Lil' Wayne!

Kevin Hart of Soul Plane is presenting along with Mel B of Spice Girls/Dancing with the Stars whose nipples are erected on live television. The winner of the Best Male Athlete award was the obvious, Kobe Bryant of the losing lakers!

Nia Long, Morris Chestnut and Cuba Gooding Jr. (Boys In The Hood) Presented the Award for Best Female Hip Hop Artist to Missy Elliott, surprisingly.. wow, I was going for Lil' Mama or Trina.

Ashanti just came out, looking a mess along with L.L. Cool J to present the award for Best New Artist to the Falsetto hit-maker The-Dream who wasn't there to accept!

Neicey Nash spoke on caucausian celebrities going to Africa and adopting black kids, so she brought out some white kids and gave them "ghetto" names, LMAO... Hilarious... Anyways she presented the Award best male Hip Hop artist to the legend in the making Kanye West, although I was rooting for Wayne, but he took him on stage with him, i'm loving it forreal!

Gabrielle Union and Derek Luke just took stage to present UGK's Bun B with the award for Video of the Year ( R.I.P. Pimp C) he was joined on stage with Big Boi, The Video's Director made part of the speech while Bun B finished the other half giving the proper respects to the artists, the co-artist, Brian Barber and his wife also spoke.

Mary Mary and Lis Lisa (whoever that is..) just are presenting The Best Gospel Artist Award, the winner was Marvin Sapp!!! I am so happy for him, after that performance, he deserved it!!

The Sol-Angel her self, Cassie, Brandon T. Jackson, David Banner and Soulja Boy delivered an important message telling you to register to vote for this years election by logging on to http://bet.com/decision08 they were there to present the nominees for best collabo, and the winner was Kanye West & T-Pain with Good life, am I happy about it?? I guess so... But he let T-Pain take the stage with him, and for some reason this fool was moving in Slow Motion.. lmao.

Terrence, Rocsi and the BET Ultimate Fan Award Winner Jacob Mann, the winner is Lil' Wayne!!!! He brought about 50 people on stage with him, he gave his first shoutout to GOD, alot of people didn't do that tonight... and he gave a shout out to his New Orleans Hometown area "Hollygrove" Congrats Weezy!! He Deserved it.

Deborah Lee, just came out to introduce the Humanitarian Award Recipient, Quincy Jones, whose a music legend and has done several things for the community, and worked in Africa for the AIDS foundation and to add he's been a 70 times Grammy nominee... AMAZING! He's worked with artist such as Michael Jackson, Tamia, Will Smith, Whitney Houston and more. He's the mastermind behind the worlds top selling single ever, "We are the World" and he's still producing music. Queen Latifah came out to give a another speech to him and both her and Deborah Lee presented him with it, Congrats Q!

Diddy and Lauren London are complementing each other, and about to present the Best Female R&B Artist! I have my fingers crossed, lol.. This dude shows off to much for me, someone came from back stage and brought out wine for them to toast to... and the winner is.... ALICIA KEYS!!! She changed her AGAIN, well took of her little wig, she looks fab, lol.




Main Show Performers

(Videos Coming As Available)



Usher just opened the show, he came through the ground with a bunch of smoke effects and breaking into a dance number, Performing the original Love In This Club.. Seems as if he's lip synching. His stage setup is dope and Beyoncé has yet to come out, maybe it was a rumor. He's going into yet another dance number, his dances on those stage belts are dope. But i'm mad he wasn't singing live! Overall, it was pretty whack.



----------------------------------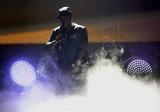 Young Jeezy is next up, I think he should have helped out Usher's week ass performance... but yeah, he's cussing his ass of while performing "I Put On" a song i've never heard a day in my life, and Kanye West just came out and is crunking up the crowd... they keep on CUSSING. It's over now.... good performance boys!

----------------------------------



Keyshia Cole just came down from the ceiling wearing a multi colored gown performing "Heaven Sent" her vocal quality is not hot but she's doing her, I guess... The wardrobe is hot though, Nelly is in the audience vibing, lol! She just switched over to "Let it Go" and ripped off the bottom of the dress, now is in a short suit with knee high white pumps! She just did a drop it like it's hot dance number.. Lil Kim just came out, with some aluminum toned jeans and a halter top. Apparently Missy Elliott missed the performance.. Keyshia's live adlibs are annoying!



----------------------------------



Ne-Yo just came out performing his hit "Closer" wearing a Gray Suit with White Shoes, a Gray Hat and black leather gloves, the choreography is hott!! This may be the in my oion the best performance of the night, the music has just broken down, he's now into the audience dancing.. one of his dancers handed him his mic back, he's now serenating Queen Lafatifah and Debrah Lee.... his female dancers have taken stage and he's dancing again. Too add he's singing live and murdering it. Ne-Yo jumped into the audience, OMG.. The Jabowackeez from MTV's America's Dance Through have taken stage and Ne-Yo came back and closed it out! AMAZING!!!

----------------------------------

Performing Teenage Love Affair with her 3 Supreme-like background singers, wearing an Egyptian like wig, dressed in all black pants with a wife beater decorated in silver rhinestones, then she went into S.W.V's "Weak" then the 3 original members of the group came out and performed the song this was another historical moment then be joined by En Vogue singing "Hold On To Your Love" HISTORICAL MOMENTS!!! Alicia is doing it mann! This was beautiful then T-Boz and Chilli joined her on stage to perform their hit "Waterfalls". All the rappers are in the audience singing along, they killed it man! This is a good look for Alicia!!!! All the ladies are harmonizing on the track, this was beautiful!!!



----------------------------------

T-Pain just took stage, with an amazing set, he is dressed up as a ringmaster, with a circus like set the whole nine, bootleg horses, women on stilts with afros, the whole nine... Lol. Now he's performing Low, the first song was "Ringmaster" I believe... Flo-Rida has come out with his usual wife black wifebeater. Now he's performing "Biggest Boss" with Rick Ross.... who came out there with his SHIRT OPEN... LMAO... Oh my god. He is wrong on so many levels, he has on a sueded burgundy sweat suit with the top open, NO SHIRT.., now they're performing I'm SO HOOD... with DJ Khaled and Big Boi has come and started rapping it's hard to hear him over the beat... and everyone is cursing the audio is shifting! Obviously Lil' Wayne is feeling it, he's jumping up and down in the Audience... Ludacris has busted out of a box and taking stage rocking his Africa Chain, killing it! This was a hot performance!!



----------------------------------

Marvin Sapp is performing Never Would Have Made It, which is one of the best Gospel Songs out today! Truly emotional lyrics, he is singing the hell out of this song!! God bless, we needed that Gospel moment, atleast he's not being bleeped out for ignorance. Theres a slideshow in the background and they just showed Michelle & Barrack Obama!! You can tell he's feeling this heart-felt performance, I am loving it y'all.. lol!

----------------------------------




Chris Brown, just hit the stage rocking all back, performing a cool rendition to his hit "With You" his dancers are partnered up into four couples doing there thing in the background, and he's singing his little heart out.. He just put his mic stand into the audience, now he's slowly breaking down into a dance number... Ciara has come out and started dancing they are dancing to Take You Down, and she's sexily dancing on top of him to Take You Down, Rihanna loks some mad... Keyshia Cole is on her feet dancing... Ciara is all over the Young heartthrob, they are getting it, that was beast!! He didn't sing it but he surely did dance.. and her name is falling in the rain, it was hot for what it was, but it was too short!



----------------------------------

LIFETIME ACHIEVEMENT AWARD

John Legend is on now, to present Al Green with the "Lifetime Achievement Award" well... Rev. Al Green. Now they're showing a tribute video with his older archived videos and it's narrated by John Legend, i'm surprised Steve Harvey isn't presenting him with his award...

Jill Scott is performing, dressed fabulously for the occasion, well never mind.. they just showed a full body shot, but she's singing "Still in Love With You" and might I add she sung the hell out of it! And Anthony Hamilton is singing "I'm So Tired of being alone" he did it justice, and i'm so happy he didn't wear those triflin' looking threads of his... he cleaned up his image. Maxwell sung "Simply Beautiful" and brought the house down..

Al Green is taking stage performing "Let's Stay Together" which is my song and he kicked that highnote!!! He is cutting up to be so old, the congregation might be pissed of after this... LMAO, but he's doing it. I swear! Now he's going into one of his biggest hits "Love & Happiness" and he's bringing the house down!!

----------------------------------

Back to the regular show..

Rihanna just hit stage rocking an all black dress... wtf is up with color black tonight??... OOOH BET AWARDS!! Chris Brown is in the audience rocking to his girls music.. she finally made it down the stairs to the main stage, now she's at the mic stand, as usual. There's a Giant Fan in the background of her set. Her facial expression are, lmao... but she sounds decent, just no audience interaction and she's standing at the MIC!! I'm starting to like the Halle Berry hair do... she could have did bettter.. but oh well.



----------------------------------

Ashanti just came out with D.L. Hugley to present her man Nelly's Performance of his new single "Stepped on My J's" his shirtless, lol. Damn, they are on the stage dunking basketball, the dancers that is. Jermaine is spitting his verse, coolness! Ciara just came out, she changed her hair fast, look like she borrowed Alicia's wig... but they're getting it... Now he's singing Party People with my girl FERGIE!!!



----------------------------------

T-Pain put on a skit introducing Lil' Wayne a skit building the perfect rapper, which was pretty entertaining, they're performing their collabo "Get Money" and T-Pain still has on that damn Circus Hat, dressed in Linen White! And yep, they're cussing the audio keeps going in and out, which is annoying. But Wayne stage present is on point. T-Pain gave a shout out to Static Major now Wayne is performing is Number 1 single, "Lollipop" and T-Pain is singing Static's adlibs... Wayne is doing a little dance, lol.. now taking off his jacket and T-Pain is still adlibbing.. now Wayne is performing his hit mixtape single a Milli... Shirtless and is going hard I might add! He received his standing ovation!