Last Night (June 28) Jay-Z took stage at the Glastonbury Festival which was held in London, he was preceded by singer Amy Winehouse but he was the headliner,
Until Jay-Z finally took to the stage on Saturday night, it had been a three-way split as to what the big story of Glastonbury 2008 was going to be: Amy Winehouse, the mud or the possibility of Jay-Z being the first headline act to be bottled off stage.

In the event, Jay-Z at Glastonbury 2008 proved to be the most thrilling headline act for more than a decade. We should have known that the artist, who retired briefly from making music in 2003 because there was nothing new left to achieve, would relish this sort of challenge.

A video montage chronicling the furore that had led up to this most controversial of bookings began with Noel Gallagher piously proclaiming: "Sorry, but Jay-Z, I'm not f***ing having him at Glastonbury." Then came Jay-Z, contemptuously miming Wonderwall while strumming a guitar. Finally, an explosion of hip-hop beats heralded 99 Problems. With his biggest hit behind him, he declared: "My name is Jay-Z and I'm pretty f***ing awesome." He made light work of proving it with the elastic funk of I Know What Girls Like.
*
Click Continue Reading For Pics/Video!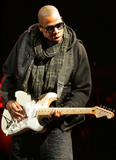 In related News, Beyoncé was also spotted cheering him on at last nights Festival,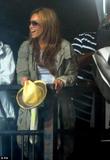 Source